Even though I arrived late (had a class that Saturday) I really enjoyed this past Sketchcrawl. Check out the sketches I did!

The Embarcadero building, with that weird fountain in the foreground.


One of the California Hornblower ships.


A pedestrian Pier, near the Embarcadero.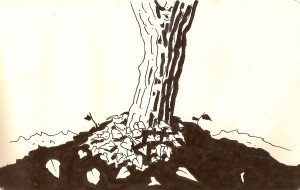 A tree in a park in the Financial District. I love the relationship between the plants and the tree…


As I was winding down, I saw this Hippie in a corner at North Beach.